GREENBOARD is a simplified, customized, and inexpensive option for incident management operations during a variety of fire, EMS, HazMat, and general emergency management incidents. It incorporates any number of stock or customized IMBOARDS with an IMBAG that is designed for both mobile and stationary operations.
INCIDENT MANAGEMENT BOARD
Cost: $10 (additional for custom)
Each IMBOARD is an 11″x17″ laminated, double-sided worksheet that allows you to track, checklist, and account for key tactical benchmarks and resource utilization. These laminated IMBOARDS are designed for dry-erase marker use, which allows for updating/changing your incident's status as it happens. At various points or timeframes within your incident, taking a picture will capture your present IMBOARD's status, allowing you to add its image into your NFIRS, PCR, or other After Action Reports. While stock options do exist, customized options are also available to meet the specific needs & identifiers of your agency.
FIRE – Fireground Command – Fireground Task Accountability – Breathing Air Tracking – Sector/Division Accountability – Fire Scene Layout – Water Supply/Tender Operations – MayDay/RIT Activation – Staging/Logistics Officer
EMS – EMS Command – EMS Organizational Chart – Triage & Transport List – EMS Scene Layout – Ambulance List – Hospital List – Patient List – Provider List – Transport List – Transport Area Layout – Transport Officer Accountability – Treatment Area Layout – EMS Task Accountability
GENERAL/EM – Organizational Chart – Radio Channel List – Scene Layout – Task Accountability – Unit Accountability – Group/Division Resource List
HAZMAT – HazMat Accountability – HazMat Zones/Perimeters Layout – Decon Line Layout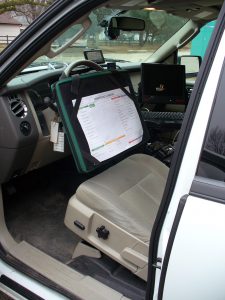 INCIDENT MANAGEMENT BAG
Cost: Starting at $250 (with decreased prices per each additional)
Stowed easily in your battalion chief vehicle, supervisor's car, or carried as you "go mobile," the IMBAG is a functionally-designed bag that holds each of your IMBOARDS in place by elastic straps, has additional pockets & pouches for added resources, holders for dry-erase markers, and is also stocked with two detachable inserts that allow for your incident (and command tree) to grow. It is also designed to be secured over your vehicle's steering wheel, allowing your IC staff to operate within their climate-controlled vehicle, and still accessing their MDT and other available resources.
Contact us for additional pricing & item details:
products@emergencymedicalsolutionsllc.com